Discover more from Adventure Snack
Turn your inbox into an adventure with interactive stories the perfect length for your lunch break.
Over 2,000 subscribers
State of the Snack
Your feedback – but also, SNOOD!
Dear Adventurer,
Hope you're having a wonderful holiday season! If there's a food item covered in candy cane bits I haven't eaten recently, I'd be very surprised.
Scrooge Your Own Adventure was our last Adventure Snack game for 2019. New games will be delivered to your inbox starting next month. If you're jonesing for an adventure, check the archives for games you may have missed... or endings you haven't yet discovered.  
Before we close out the year, I wanted to update you – a brave, physically breathtaking quest-seeker – on what's been happening with Adventure Snack. I think it's important, as your humble game master, to let you in on what we're building here.
SURVEY RESULTS
More than double the amount of players responded to the survey than I estimated. Your feedback was overwhelmingly positive! Thank you, I'm blushing. The average rating for Adventure Snack was 4.5 out of 5. Your favorite aspects of the games are the humor, the short length, and how they're a fun distraction from work. Take that, cruel employers!
How can I improve Adventure Snack? The top suggestions from players were releasing more snacks per month and adding original illustrations. Those are both great suggestions. To justify the investment of time and gold coins it'll take to make those improvements, we need more players. Tell your friends! Share the games! Let's go from a gang of misfits to an army of misfits.
Here are a few of my favorite survey quotes:
"The snack nature means its train-commute sized. The adventure nature keeps me driving for more. The comedy keeps me surprised!"

"It reads like a perfect page in a Jack Handey / Michael Kupperman book"

"Quick and simple! Love the different random mechanics too! (Check song playlists, check time, etc.) Not just dice rolls."

" It's a little bit of joy in an endless tide of spam and bills."
WORD OF MOUTH
I haven't started publicizing Adventure Snack yet. I've been more focused on testing the mechanics and experimenting with the form. Even so, the game's been getting attention. Our newsletter platform is called Substack. New games have started charting on Substack's Top Posts list. Hacking the Pentagram cracked the top 5.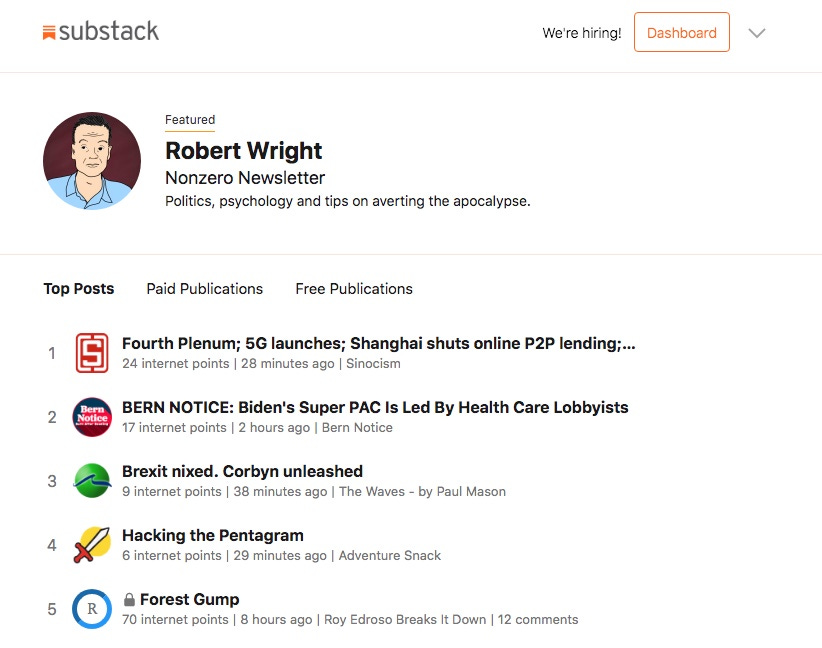 …and literally as I was writing this, I found out that Substack made Adventure Snack a featured newsletter! How about that?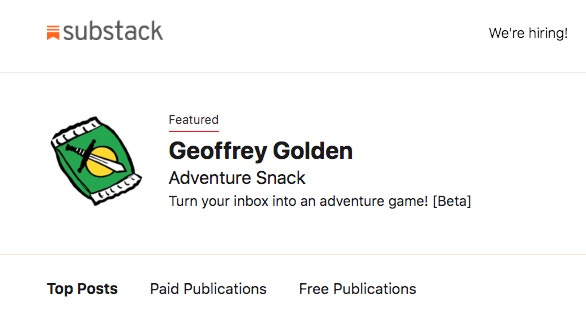 One of our players, Michael Gerber, is the publisher of American Bystander. It's a hilarious comedy magazine with contributors like Michael Ian Black, Terry Jones, and Al Jean. He featured this promo in a recent print edition:
Another one of our players, Steenz, is an esteemed editor and artist of the graphic novel Archival Quality. (She commissioned my article on solo RPGs for Rolled & Told magazine, which is how I got the idea for Adventure Snack.) In Hacking the Pentagram, I make multiple references to a game called Snood, which I was obsessed with in high school. It led to this amazing Twitter thread... 
Snood is honored to be in Adventure Snack. Honored! Snood! I still can't get over that.
Thank you to Michael, Steenz, and everyone who shares Adventure Snack. If you want to spread the word about the game, share the link with your favorite websites and podcasters. Army of misfits! Here's that button from before!
SINISTER PHASES
Sinister Phase One was building Adventure Snack, exploring what works in the format, and making a game that's fun. I'm now moving us into...
Sinister Phase Two: World Domination. (Building up the player base, then making fun improvements!)
See you in January,
Geoffrey